Security
As with any developing country with large income inequality, security in Cote d'Ivoire, and more particularly in Abidjan can be a concern. That said, the security situation in Côte d'Ivoire has evolved immensely since the 2011 Post-election crisis. Non-violent incidents such as purse snatchings and pick pocketing on public transportation are some of the most frequently reported crimes. As a countermeasure, the city administration has heightened its crime combating efforts, particularly in the centre of Abidjan, with the installation of video-camera surveillance. It is safe to walk around Abidjan during the day. At night, you should exercise caution, even when in groups. Violent hold-ups and home invasions are rare, and heavy traffic in Abidjan has led to a drop in the number of car-jackings.
In March 2013, a special task force composed of police officers, gendarmes and soldiers known as the CCDO was set up in Abidjan to improve coordination between various security units. Their armoured vehicle patrol the city every day and for emergencies, you can call the numbers below:
Emergency numbers 24/7
Free calls Tel: 100/111
Tel: +225 20 22 53 45 / +225 20 22 49 17
Carjacking has previously been a common form of crime in Abidjan but it has substantially decreased since 2010.
A few cases that happened recently remind us the possible increase of carjacking in Abidjan.
Carjacking can occur anywhere, but is mostly a big city problem.
It happens most often in a busy commercial area where cars are parked and when the owner is entering or exiting the parked vehicle. The majority of carjackings or attempts tend to occur near the victim's home. The carjacker wants the keys readily available and the car door unlocked for a quick getaway. Carjackers tend to prefer people who are alone in their car for obvious reasons.
Popular carjacking locations are parking lots, shopping centers, gas stations, car washes, convenience stores, ATMs, hotels and outside of retail stores. Close proximity to a freeway is a desirable escape factor from the carjackers prospective. A risky, but popular location for the carjacker is a roadway intersection with a stoplight. A carjacker will jump out of another vehicle, pull open your unlocked drivers' door, and force you to get out. This type of carjacking allows for a quick escape but increases their risk of being followed by other drivers.
Another copycat scheme used by carjackers is to bump your car from behind to get you to pull over and stop.
How to avoid it?
First of all, you need to remember that strict enforcement of security principles is always essential.
Carjacking of parked vehicles depends on the car owner being inattentive to their surroundings. Carjackers, like street robbers, prefer the element of surprise. Most victims say they never saw the carjacker until they appeared at their car door. To reduce your risk of being carjacked, here is a list of important points to remember:
* Consider getting a mobile panic button from any major security company.
* Always park in well-lighted areas, if you plan to arrive/leave after dark
* Don't park in isolated or visually obstructed areas
* Don't use an unattended garage, if you are driving alone
* As you walk to your car be alert of suspicious people sitting in cars
* Watch out for people loitering in the area (handing out flyers, etc)
* If someone tries to approach, change direction or run to a busy store
* As you approach your vehicle, look under, around, and inside your car, If safe, open the door, enter quickly, and lock the doors
* Don't be a target by turning your back while loading packages into the car
* Make it your habit to always start your car and drive away immediately
* Teach and practice with your children to enter and exit the car quickly
* In the city, always drive with your car doors locked and windows rolled up
* When stopped in traffic, leave room ahead to maneuver and escape, if necessary
* If you are bumped in traffic, try to understand if the accident is genuine or not and waive to follow to a gas station or busy place before getting out
* If you are ever confronted by an armed carjacker don't resist
* Give up your keys or money if demanded without resistance
* Don't argue, fight or chase the robber. You can be seriously injured
If you are carjacked,
call the police immediately to report the crime and provide detailed information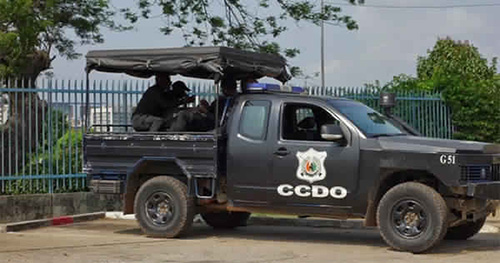 For your home security, it is advisable that you opt for gated communities and compounds or secured apartments. Most people find that paying particular attention to your home security permiter will help minimize their chances of becoming a target. This includes ensuring that there is no heavy vegetation near your home that would-be thieves can hide in, and making sure that you have outdoor lighting. Some people also opt to have motion detected lighting installed.
Roads Security in Côte d'Ivoire
While roads in Abidjan are generally safe and well patrolled, there are a number of risk areas outside of the capital. They include roads along the Liberian border and in the northern central parts of country where highway bandits take advantage of the lack of a strong police presence. Your best bet is to travel in a convoy of at least vehicles and to avoid travel in the evening or pre-dawn hours. Security checkpoints are relatively common, particularly near the Zone of Confidence, the ceasefire line between the North and the South, and on the outskirts of major cities. Soldiers may ask to inspect your documents. If this happens to you, just remain calm and hand over your papers.
Security Companies in Abidjan
Here is a list of a some security companies operating in Abidjan. Most providers of security solutions offer a complete range of integrated security solutions for different budgets:
Pages