Overview of Grand Bassam
Grand Bassam is a coastal city situated east of Abidjan with a unique mixture of beach and history. Getting there is easy and fast, usually taking just 45 minutes by car.
Best start early to beat the traffic on Boulevard Valéry Giscard d'Estaing in the direction of the airport. Then the highway leads you directly to Grand Bassam.
The road along the coast is a bit more crowded but is also more scenic with a nice view of the sea behind rows of palm trees.
Beach
Grand Bassam is the closest spot to Abidjan for a nice dip in the ocean. Especially over the weekend it's a popular place for locals and visitors.
During the week there is a good chance to have the beach just for yourself. It offers something for every taste, from basic maquis with local food to fancy hotels and restaurants.
Swimming in the Atlantic Ocean can be a little rough though. Beware of strong currents. Families with kids might prefer a hotel or restaurant with a seaside pool.
History
Aside from the beautiful beach, the city is worth some more intensive exploring.
Grand Bassam still conserves the charm of colonial times. In 1893 the French made it the first capital of their colonies in the region.
The southern area of Grand Bassam between the ocean and the lagoon is still called the French Quarter.
Ancient buildings remain, a bit run down but still impressive enough for a little time travel back to when European ships landed at the colony's first deep sea harbor making Grand Bassam a prosperous place.
Since 2012 the historic town of Grand Bassam is part of the UNESCO World Heritage List.
Also recommended is a visit of the National Costume Museum of Ivory Coast (Musée national du costume de Côte d'Ivoire). The building is the former governor's palace.
The museum shows traditional outfits and masks of the different ethnic groups in Ivory Coast.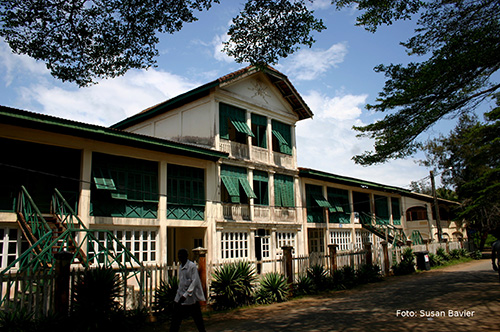 Art
Grand Bassam is also known for its art and crafts. While strolling through the streets of the French Quarter, don't miss the typical woven and printed fabrics, paintings or ceramics.
Reading Tip:
Bernard B. Dadié "Climbié" 1956
An autobiographical novel of Bernard B. Dadié, the grand Ivorian author. The story follows the main character, young Climbié. He spends his childhood in Grand Bassam. It is an interesting inside view of life in the city during the late colonial years. The book is available in English