Birthday/Party Planners
Party Planners
Organizing birthday parties for your children can be a hard task; you want to make their wishes come true but the same time you are faced with the complex issue of decoration, venue, finding a good cake and entertainment. Below is a list of the different activities for birthday parties you can organize for your child at home or another venue.
Beauty Spa
A great idea for the girls. Accompanied by her friends, they get to enjoy a moment of beauty relaxation. The Spa offers manicure, pedicure, face mask and beauty advice all to be enjoyed in in a private setting.
Address: Marcory Résidentiel – Rue de la Paix
Tel: +225 59 22 13 22
Facebook: Prestige Kids Spa
Music and Karaoke
Karaoke is led by a professional DJ. Transform your living room into a real dance floor and watch your kids dance to the hits of their favorite songs.
Address: Marcory Résidentiel
Tel: +225 07 17 77 24
Other Fun Activities
Let your kids enjoy a captivating adventure by transforming their birthday into a real life action equipped with armor and pistols, all this with guaranteed security.
Looking for something special to add to your children's birthday party?Here is the perfect idea to make it fun and cool!
Rent out a complete video game set for an afternoon. They bring to your house the latest consoles and games (Just Dance, Fifa, Gran Turismo, etc.), as well as the Virtual reality helmets.
Tel: +225 54 00 27 27 / +225 54 00 56 56 / +225 07 90 80 80
Facebook: Paradise Game
Website: www.paradisegame.net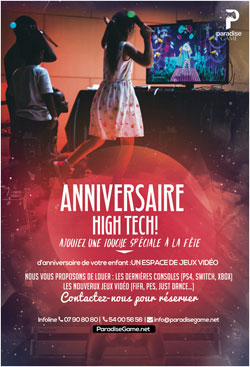 Laser Street will is a great place of entertainment for the public looking for a game of action and strategy.
Laser Street provides players with three gaming rooms - semi-dark - one of which is suitable for children of 10yrs. It's conveniently located inside a mall with different food courts next to it.
Address: Riviera Bonoumin - Abidjan Mall
Tel: +225 22 49 35 35
Facebook: Laser Street CI
Website: www.laserstreet.ci